Battery Curing Cum Drying Oven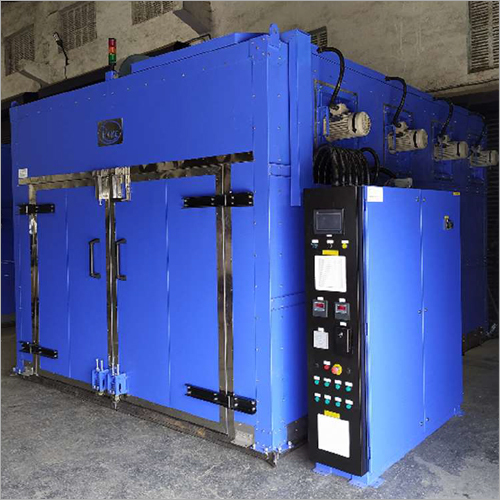 Battery Curing Cum Drying Oven
Price And Quantity
Unit/Units,

400000.00 - 2000000.00 INR
Product Description
Battery Plate Curing Cum Drying Ovens are designed to cause chemical reactions. These reactions begin once a specific temperature is reached. The purpose is to cure a coating, adhesive or a product. To have a successful curing process, the size of the heat source and distribution of airflow need to be considered.
RANE OVENS have 28 years of Oven manufacturing experience for Battery Industries. Today, we are the leading specialists in Designing and manufacturing of Custom Built & Import Substitute Industrial Ovens Located in the city of Pune, Maharashtra. We have supplied all kinds of ovens to the leading battery manufacturers in INDIA (Auto, VRLA, Industrial, Traction) for multiple application Including, Heat treating, curing and drying Processes. Rane Ovens offers a selection of small batch type, walk-in ovens that are ideal for curing applications. These offer fast ramping and cool down rates for maximum productivity, short cycle times and consistent, reproducible curing processes for all product loads. Curing ovens are designed to provide tight temperature and Relative Humidity tolerance and precise control for repeatable results and uniform airflow that ensure proper curing across an entire load. The ovens are exhausted to effectively remove the VOCs given off during curing, ensuring a safe environment. Best-in-class energy efficiency is achieved with superior insulation and cabinet design as well as recirculating airflow management.
RANE OVENS offers gas or electric batch ovens for curing small to very large loads.
Technical specification
| | |
| --- | --- |
| Parameter | Specification |
| Temperature Range | Ambient to 85 C |
| Relative Humidity | Upto 98% Rh |
| Tolerance | Temp: (2C) and Humidity: ( 3% RH) |
| Size | As per Requirement- Custom Built |
| Exterior | MS or GI Sheets with Powder Coated |
| Interior | Stainless Steel 304- As per request |
| Airflow Type | Horizontal Airflow or Combination Airflow |
| Heating Source | Electrical Heater or LPG/CNG Fired Burner with Heat Exchanger |
| Electrical Load | 2-50 KW as per Size of the Chamber |
| Application | Curing, Composite Curing, Battery Plates Curing |
Product Features
Controls- Programmable Logic Controller
Display- Advanced HMI With Touch Screen Display
Available in all heat types
Digital Chart Recorder data acquisition devices & systems
Top Mounted High volume recirculation blowers or fans to conserve valuable floor space at your facility
High Pressure Misting System for Humidity Or Inbuilt Steam Generator for small Units
PUF insulated Wall and Door for Low temperature
Glass Wool Insulated walls for High Temperature Application
Heat Exchanger System for LPG Fired Oven
Fully adjusted and factory tested PRIOR to shipment to reduce installation and Start up times
Paperless Data Recorder and data Acqusition.
Force exhaust Blower